Artist talk with Lisa Roet, 23 April 2022
22 April 2022
TCS was delighted to host Australian artist and ecologist Lisa Roet to share her insights into her practice and preoccupation with apes, primates and the natural world has transformed her to become a passionate advocate for climate change and environmental sustainability. We welcomed 30 guests comprising of art collectors, art lovers and representatives from the Victorian Government Trade and Investment – South East Asia.
---
NHB Thought-leadership Event about NFTs and collecting NFTs
14 April 2022
Ning Chong was invited by National Heritage Board Singapore to participate in a closed-door event to discuss the emergence of NFTs as part of their discussion and plans about growing the National Collection. The event was attended by representatives from Singapore's leading art institutions and museums. Alongside her fellow panelists who included Dr David Tan (Professor at NUS Law and Deputy Director of the Centre for Technology, Robotics, Artificial Intelligence and the Law), technologist Mr Carlos Nicholas Fernandes, art writer and founder of @NFTAsia Ms Clara Peh and NFT artist Speak Cryptic, Ning shared her perspectives on NFTs as a collector, art consultant and gallerist.
---
SAW2022 Dialogues
SAW Dialogues 2022 – In Retrospect: 10 Years of SAW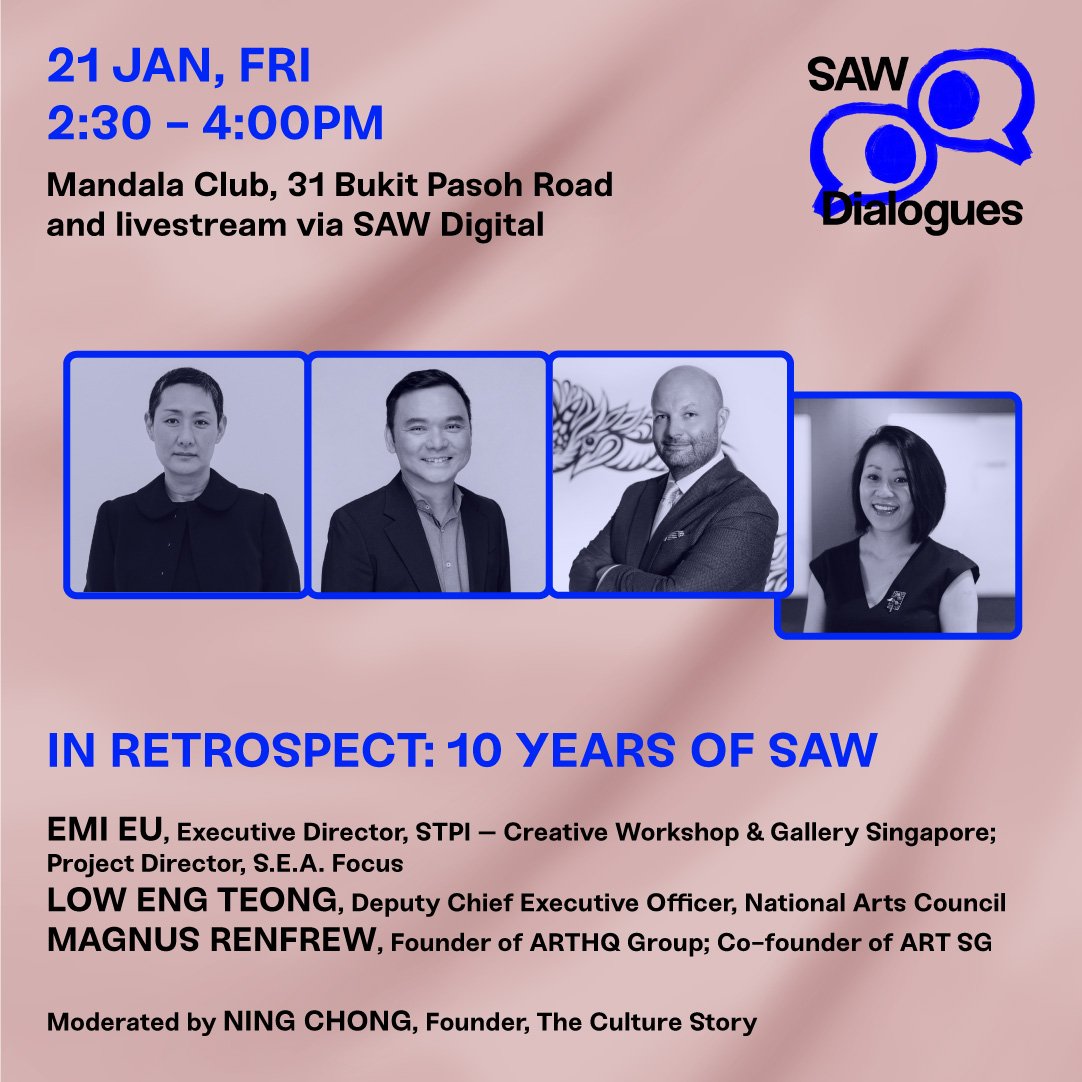 On 21 January 2022,  Founder Ning Chong will be moderating the panel "In Retrospect: 10 Years of SAW" as part of the SAW Dialogues 2022. Alongside Ning is Emi Eu (Executive Director, STPI – Creative Workshop & Gallery Singapore and Project Director, S.E.A. Focus), Low Eng Teong (Deputy Chief Executive Officer, National Arts Council), and Magnus Renfrew (Founder of ARTHQ Group, Co-Founder of ART SG).
This panel discussion will reflect on the past ten years of SAW, discussing Singapore's position as a vibrant arts hub in a regional context. From a commercial perspective, three leading art professionals will share their insights on what makes a successful art week. Who benefits most from Art Week; how do we strike a balance between quality of art versus quantity of programmes; is the current model sustainable? In this pandemic-era, how will Art Week evolve and what can we look forward to in future?
Watch the Livestream on SAW Digital.
Find out more at: https://www.artandmarket.net/saw-dialogues-2022-panel/in-retrospect-10-years-of-saw
---
Exploring the Zain Azahari Collection, 18 Jan 2020
Close to 70 art collectors, gallerists, artists and enthusiasts joined us on 18 Jan to hear Pak Zain share on his art journey and approach to collecting artists work.
Pak Zain is one of Malaysia's most respected art collectors of modern and contemporary Malaysian art, The Azahari Collection stands at over 1,000 pieces and is acknowledged to be one of the most significant private collections in Malaysia.  Widely known to be a private and low-profile individual, we were privileged to host Pak Zain and Haslinda who shared their insights behind the Azahari Collection, the vision for Galeri Z which was set up in 2015 and their personal endeavours to publish 3 books so far.
The event launched "Hati & Jiwa: Volume 3 (2019)"  featuring over 500 artworks, by Malaysia's old masters and 50 contemporary works from younger Malaysian artists and around the region. Volume 3 comprises of four books, thematically categorised as Landscape, Figurative, Abstract and Other Regions with artworks dating from the 1920's to the present day.
---
---
Disrupting Art Market Models with S2 Gallery London
Join us to find out S2 London's unique approach to exhibition-making, opportunities in London which is on the cusp of Brexit, who are the value buys and discover international artists before the market catches on.
Date: Thursday 21 Nov 2019
Starts 6.30PM
Complimentary entry, RSPV required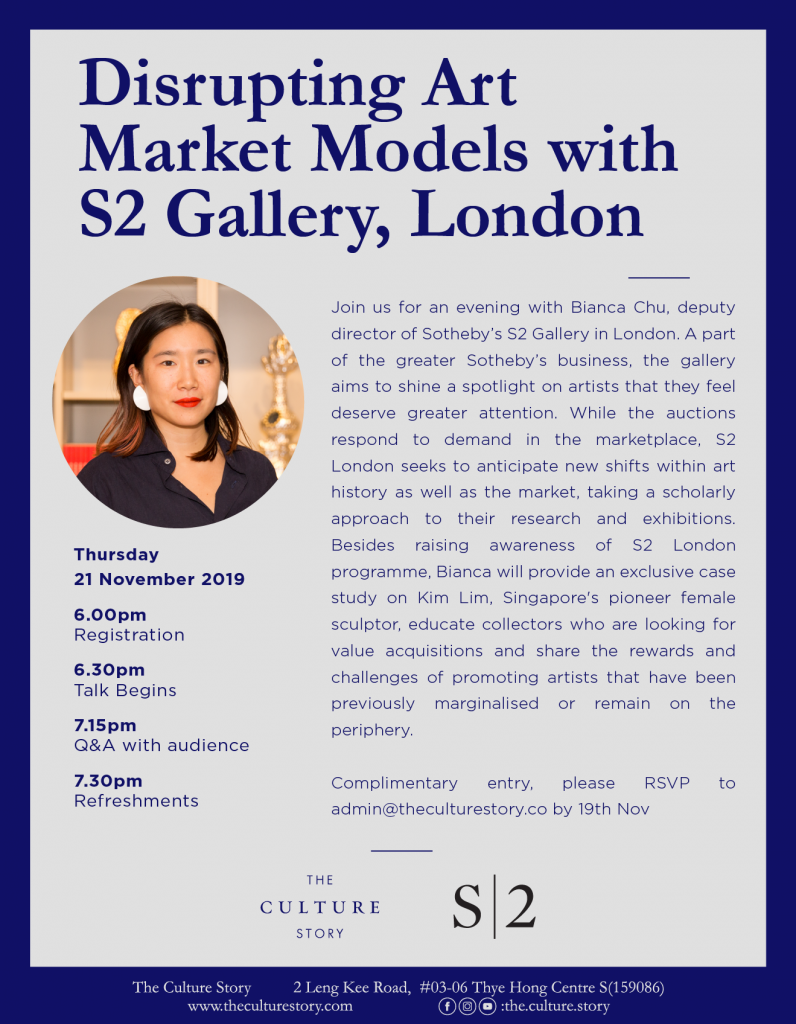 Bianca Chu is the deputy director of Sotheby's S2 Gallery in London. Having over 8 years experience in the art industry, Bianca along with gallery director Darren Leak, organise and curate the exhibition programme at S2. 
The gallery functions independently of the auction business, and aims to shine a spotlight on artists that they feel deserve greater recognition. Whilst the auctions at Sotheby's respond to demand in the marketplace, the exhibitions and research undertaken at S2 London hope to anticipate recognition and highlight artists that have been previously marginalised or remained on the periphery. S2 organising solo and group exhibitions (Bianca will elaborate more in her presentation), and the gallery also publishes extensively on its research and new exhibition books accompany the shows. 
Born in New York, Bianca has an MA from the University of Edinburgh in History of Art and Chinese Studies and is an Ambassador of the Tate Young Patrons and patron of the UK Friends of the National Museum of Women in the Arts, based in Washington, DC.
Previous solo exhibitions at the S2 gallery include the first UK solo show of Austrian artist Renate Bertlmann (currently representing Austria at the Venice Biennale); Kim Lim; Li Yuan-Chia; Yuko Nasaka; Ibrahim El-Salahi; Tess Jaray; Tsuyoshi Maekawa; Alfredo Volpi; Roger Hilton; and the first UK solo show of Huang Rui. Group shows include an exhibition re-staging the important but overlooked Signals gallery in London between 1964-66 which included work by Filipino artist David Medalla alongside key proponents of Kinetic and experimental art in Europe such as Takis, Carlos Cruz-Diez, Lygia Clark, and Helio Oiticicia.
---
Joys and Rewards of Art Collecting
On 14 Sept 2019, in collaboration with AXA and Great Eastern, Chong H.S. shared his personal journey of art collecting to a select group of premier clients. We were delighted to share this with our new friends, and Peng Yong's paintings and installation continue to be on display during this event. Besides art, we also heard from specialists on art insurance, legacy building and enjoyed whisky sampling after the talk.
---
Practical Insights into Collecting Singapore Art
On 12 Jan 2019, over 80 guests attended "Practical insights into collecting Singapore Art" by veteran art collector Teng Jee Hum and the launch of his new book "Godalisation- Singapore Painted" which sold over a hundred copies that afternoon.
Teng Jee Hum grew up in Singapore in the 1950s – 60s, he was deeply influenced by the towering figure of Singapore's first Prime Minister, Mr Lee Kuan Yew. Teng said: "Looking back now on the evolving collection, it is searching for an identity, discovering the root influences of how I come to be this way. In doing so, I cannot avoid the Singapore Story, and the one person who has probably done the most for me, and to me." For the last 25 years, Mr Tenghas developed a robust framework for collecting Singapore art. To date, he and his wife June have amassed hundreds of works, several key works made from 1950's – 2018 are featured in the book. Mr Teng also shared insight on how to identify and collect works with potential for asset appreciation.
The book will be available for sale at FOST Gallery and The Culture Story during Singapore Art Week 2019 and will be sold at SEA Focus Fair as well. Available soon at NLB, Kinokuniya, Books Actually and Select Books. Pls contact us if you are interested to purchase the book!
---
Salon Saturday@TCS
Salon Saturday@TCS was a four-part series of talks organised and hosted by The Culture Story from Oct – Nov 2018.  Accompanied by guest speakers from the art industry, they shared their knowledge and insights so that one can confidently carry out his or her pursuit to acquire great works of art. Whether you are taking your first step into the foray of art collecting or already own a collection at home/office, many guests expressed positive feedback as they felt these talks provided practical insights and advice in navigating the unfamiliar ways of the art market.
"Accessibility and value practicality."
"Really like the checklist (tips when buying art) – very practical advice."
"Gives me the confidence to collect."
"Ning addresses the art market in quite a direct and closer way, its brave, open and helpful."
"Enjoyed the sharing sessions and insights with other industry peers."
"With the opening of online platforms and the statistics shared by Alan (Fair Director of Affordable Art Fair) changed my opinion of collecting art."
It's simple and easy to understand for a novice like me!"
---
Collecting Chinese Ink: History, Culture and Wealth 23.09.2018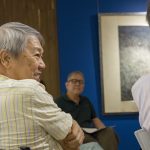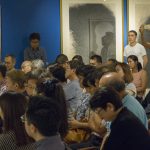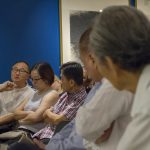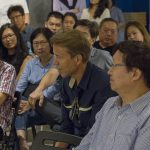 [Talk] Collecting Chinese Ink: History, Culture and Wealth
On the Sunday afternoon of 23 September, a surprising turn-up of 70 guests came by The Culture Story for a panel discussion on "Collecting Chinese Ink: History, Culture and Wealth". Moderated by co-founder Mr H.S. Chong, the panel of speakers – Mr. K.P. Lee, Mr Teo Han Wue, Ms Lee Chor Lin and Mr Chong himself – gave an insightful sharing of Chinese ink as a medium, its traditions, and its influence especially in the context of Singapore. In the midst of the sudden focus on ink art by local institutions and galleries – Wu Guanzhong by National Gallery Singapore, Lim Tze Peng by artcommune and more, it was timely that The Culture Story took stock of the conversations and discourses surrounding the medium that carries a long history.
Mr Lee kicked off the session with introducing some of the early ink masters across dynasties and styles. Mr Teo then brought us down from the mountains and waters to modern Singapore and shared about the influence of ink practice amongst the pioneer artists in Singapore. To many of our amusement, Ms Lee showed the crowd archival images of the artists groups from Singapore in the 1940s-1950s, pointing out the vast network of Chinese ink artists other than Chen Wen Hsi, those who practiced but later moved away from ink or moved out of Singapore. Lastly, Mr Chong shared his experience of growing interests in collecting Chinese ink works and later on establishing the China Art Foundation to consolidate the efforts of its form as a artistic medium and tradition.
The Culture Story will like to thank the speakers for contributing to the talk and making it a success. Thank you to all those who came down and spent the afternoon with us. The Culture Story continues to strive towards creating conversations and discourses that enrich our audience whether they are novice or learned in collecting art.
Speakers' Profiles

(more…)
Tags:
art
,
Talk
,
chinese
,
ink
,
collecting
---
Trends in the Global Private Art Museum Landscape by Christoph Noe
On Sunday 27th May 2018,  over 50 guests participated in a talk with co-founder of Larry's List, Christoph Noe. Christoph shared on an insider's view on the rise of private museums, future trends and where the opportunities lie whether it's for an artist, collector or institution. He also brought in copies of the Private Art Museum report, Art Collectors Report and The Private Art Pass. We are glad to have hosted important art collectors, representatives from museums and institutions, consultants and art lovers.
About Christoph Noe
Working as a management consultant on strategy projects for a multinational corporation between Munich, Berlin, Shanghai and Beijing, in 2005 Christoph Noe decided to switch industries and actively engage in the Chinese contemporary art scene, founding THE MINISTRY OF ART. Specializing in Chinese artists of the post-seventies and eighties generation, Christoph Noe has organized a number of international exhibitions and edited various books, including "Young Chinese Artists", "Hong Kong Artists," and "Buy What You Like". Most recently he edited a catalogue raisonné for the painter Liu Ye; the first publication of this kind for a Chinese contemporary artist. Christoph Noe also advising a number of brands including Rolls-Royce and Hugo Boss on their art engagements in Greater China. For Hugo Boss, he helped set up the biennial HUGO BOSS ASIA ART AWARD in cooperation with the Shanghai-based Rockbund Art Museum.
In 2013, he co-founded LARRY'S LIST, the leading art market knowledge company providing data, research and access to contemporary art collectors and published the "Art Collector Report (2015)," the most comprehensive study on contemporary art collectors worldwide and the "Private Museum Report (2016) ", a global overview on the landscape of privately founded contemporary art museums. Christoph Noe has lectured extensively on Chinese contemporary art and the art market, among others at Angewandte University, Vienna.
---