Exploring the Zain Azahari Collection, 18 Jan 2020
Join us for a special dialogue and book launch with Pak Zain Azahari and Haslinda Hussein moderated by Syed Muhd Hafiz.
Saturday, 18 Jan 2020
Starts 11.00AM
Pak Zain is one of Malaysia's most respected art collectors of modern and contemporary Malaysian art, The Azahari Collection stands at over 1,000 pieces and is acknowledged to be one of the most significant private collections in Malaysia.  Widely known to be a private and low-profile individual, we are privileged to be given the opportunity to host Pak Zain and Haslinda to share their insights behind the Azahari Collection, the vision for Galeri Z which was set up in 2015 and their personal endeavours to publish 3 books so far.
The event will also launch "Hati & Jiwa: Volume 3 (2019)"  featuring over 500 artworks, by Malaysia's old masters and 50 contemporary works from younger Malaysian artists and around the region. Volume 3 comprises four books, thematically categorised as Landscape, Figurative, Abstract and Other Regions with artworks dating from the 1920's to the present day.
Vol 1 & 2 (1 book) priced at SGD100, Vol 3 (set of 4 books) priced at SGD 120
Combo set Vol 1 – 3 at a special price of SGD 180, pls contact us if you'd like to reserve and purchase any of the publications before the event.
This event is complimentary entry, pls RSVP to admin@theculturestory.co by 12 Jan !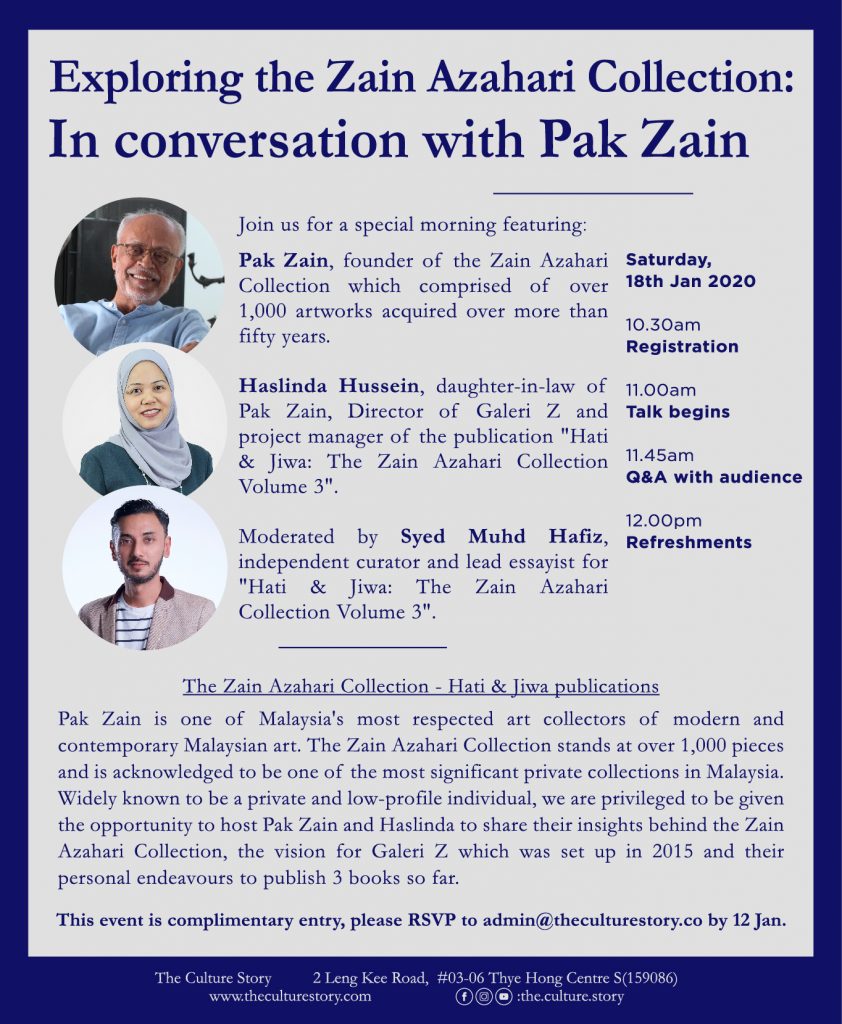 ---