Disrupting Art Market Models with S2 Gallery London
Join us to find out S2 London's unique approach to exhibition-making, opportunities in London which is on the cusp of Brexit, who are the value buys and discover international artists before the market catches on.
Date: Thursday 21 Nov 2019
Starts 6.30PM
Complimentary entry, RSVP required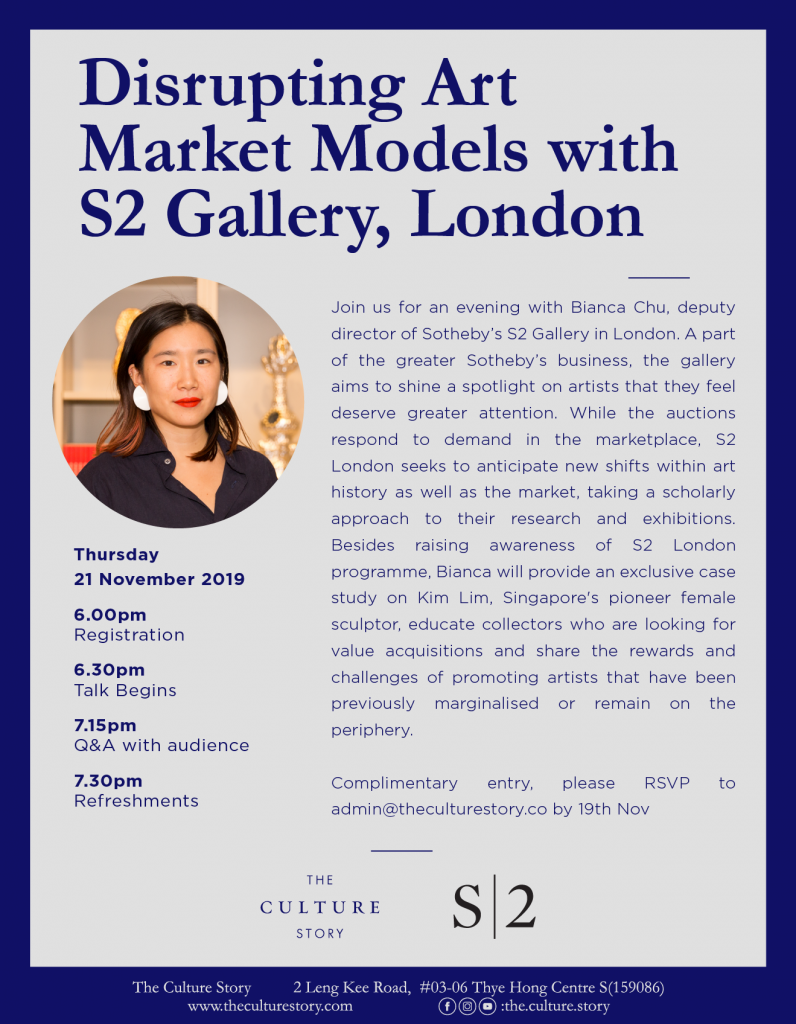 Bianca Chu is the deputy director of Sotheby's S2 Gallery in London. Having over 8 years experience in the art industry, Biancaalong with gallery director Darren Leak, organise and curate the exhibition programme at S2. Born in New York, Bianca has an MA from the University of Edinburgh in History of Art and Chinese Studies and is an Ambassador of the Tate Young Patrons and patron of the UK Friends of the National Museum of Women in the Arts, based in Washington, DC.
The gallery functions independently of the auction business, and aims to shine a spotlight on artists that they feel deserve greater recognition. Whilst the auctions at Sotheby's respond to demand in the marketplace, the exhibitions and research undertaken at S2 London hope to anticipate recognition and highlight artists that have been previously marginalised or remained on the periphery. S2 organising solo and group exhibitions (Bianca will elaborate more in her presentation), and the gallery also publishes extensively on its research and new exhibition books accompany the shows.
https://www.sothebys.com/en/series/s-2-gallery-london
CURRENT EXHIBITION
"Temporary Relationships" – debut solo show in SG by Peng Yong
Born in 1984, Peng Yong was trained at the Central Academy of Fine Art (CAFA) in Beijing. He specialized in printmaking and completed his post-graduate study with the influential Chinese artist Tan Ping (谭平).  Peng Yong was the winner of Yishu 8 Award in 2014, a privileged Sino-France culture and arts program. He was selected to study at Cite Internationale des Arts in Paris in 2015.
Excerpt from Chong H.S. Foreword for "Temporary Relationships"
Paper is the foundation of Peng Yong's art practice. The meticulous care in creating paper from wood pulp is only the first step in a multitude of other steps in which the paper is further treated and sculpted with his hands. It is an old and difficult heritage; craftsmanship which is more often done on solid surfaces like wood and metal.
Peng Yong's approach to his art is very much influenced by his love of Zen and its meditative power. Each of his work is a conversation between him and his materials and the surroundings. He loves to use everyday objects, like a table, chair or vase as his muse and inspiration and give them another life. He is also sensitive to the greater influence of urban landscapes and global warming and these are represented by his bigger and more resplendent works.
In the current exhibition "Temporary Relationships", Peng Yong has created all his trademark paper in his studio in Tianjin. He will show for the first time, his new technique of treating paper, indenting them with a complex honeycomb surface by infusing wet paper with controlled water splashes.
Prior to the opening, he spent a week at our studio, akin to a residency, where he put the final touches to all the art works for the show. "Temporary Relationships" is a meditative experience; his works are calm and contemplative. Against a famous backdrop of the New York City skyline where the original twin towers are still standing, Peng Yong is searching for the temporal and quiet despite the chaos and mayhem which disrupted in September 2011. From his point of view, there should be no heavy permanence to weigh us down.
Selected work and close-up details:
Exhibition period:
Ongoing till end of Dec 2019, viewing by appointment only
For sales enquiries and viewing appointments, pls contact admin@theculturestory.co
---