The Culture Story is 5 Years Old! | In Search of Lost Time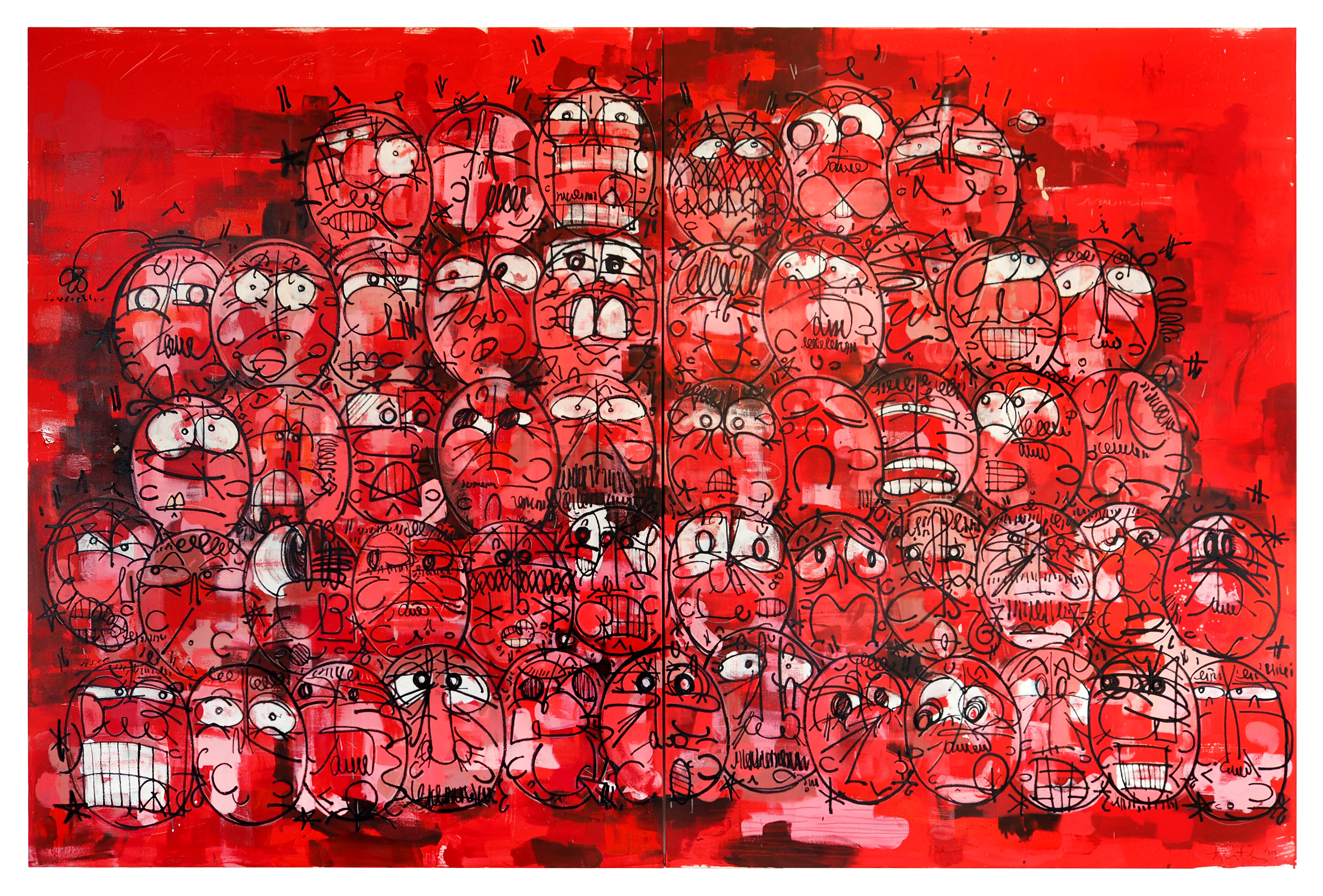 Timothy Curtis, Floating Untied to the Ground No.1, 2019, Oil, acrylic, graphite, wax crayon on canvas
In Search of Lost Time
The Culture Story is proud to commemorate its 5th anniversary with an exclusive art exhibition from the Chong H.S. collection. The exhibition showcases 38 works by 26 artists from Asia, Australia, Europe, North America, and Africa. Personally curated around the theme of portraits, faces, heads, figures and busts, Mr Chong shows snippets of his art collecting journey over the past 30 years.
Titled "

In 

Search

 of 

Lost

 

Time

", the exhibition was inspired by well-known French novelist, Marcel Proust's (b. 1871 – d.1922),
seminal novel. It contains seven volumes and its story was, in many ways, parallel to Marcel's own life story of searching for the meaning to life.
The exhibition comprises a variety of paintings, works on paper, sculpture, bronze including works by early 20th-century artist Henri Gaudier-Brzeska (1891 – 1915) to contemporary artists like Timothy Curtis (b. 1982) and Takashi Murakami (b. 1962). Each piece revisits snapshots of Chong H.S. moments before and after acquiring the artwork.
Presented by The Culture Story, the exhibition was opened
from 12 July 2022 till 30 November 2022.
Visits are by-appointment only and interested visitors are required to contact the gallery to make an appointment by emailing admin@theculturestory.co. The exhibition is accompanied by an English essay written by Mr Chong and can be viewed here.
Installation View
Artists' Names
Ben Puah, Casper Darare, Chen Ke, Dang Xuan Hoa, David Chan, Futura, Greg James, Helen Downie "Unskilled Worker", Henri Gaudier-Brzeska, Jacky Tsai, Jennifer McRae, Jin Zheng He, Khairulddin Wahab, Loi Cai Xiang, Mak Kum Siew, Murakami Takashi, Oh de Laval, PichiAvo, Raya Sorkine, Sandro Chia, Sergei Besedin, Timothy Curtis, Vajira Gunawardena, Vasan Sitthiket, Vhils, William Turnbull
---
Installation of the Golden Monkey on Lazada One Building
18 May 2022
TCS was appointed by Chelsfield Asia Ltd. and ARA Asset Management to undertake the project management and arts PR for the Golden Monkey installation. At 14m tall, the Golden Monkey has made its appearances on other notable buildings like the Opposite House in Beijing and the H Code Building in central Hong Kong. It will be making its final pitstop on the facade of the newly renovated Lazada One building from now till 21 August 2022. This marks Australian artist and ecologist Lisa Roet's debut monumental inflated public artwork showcase in Singapore.
Positioned 5 storeys above ground, the Golden Monkey takes the form of the endangered Snub-nosed Monkey found only in parts of China, Vietnam, and Myanmar. Lisa hopes that the Golden Monkey is not only created as a wonder for people to enjoy, but also as an artwork to evoke discussion and debate on climate issues like global warming and deforestation.
As a testament to Lazada One building's green certification and in line with Lisa's passion for sustainability and making a positive impact, the artist has engaged RMIT University to calculate the carbon footprint of this project. Supported by Chelsfield, the project will purchase carbon credits to benefit the Rimba Raya Biodiversity Reserve in Borneo.
Find out more about Lisa's inspiration behind the Golden Monkey on her website.
Photo credits: Chelsfield Asia Ltd and ARA Asset Management
---
Artist talk with Lisa Roet, 23 April 2022
22 April 2022
TCS was delighted to host Australian artist and ecologist Lisa Roet to share her insights into her practice and preoccupation with apes, primates and the natural world has transformed her to become a passionate advocate for climate change and environmental sustainability. We welcomed 30 guests comprising of art collectors, art lovers and representatives from the Victorian Government Trade and Investment – South East Asia.
---
NHB Thought-leadership Event about NFTs and collecting NFTs
14 April 2022
Ning Chong was invited by National Heritage Board Singapore to participate in a closed-door event to discuss the emergence of NFTs as part of their discussion and plans about growing the National Collection. The event was attended by representatives from Singapore's leading art institutions and museums. Alongside her fellow panelists who included Dr David Tan (Professor at NUS Law and Deputy Director of the Centre for Technology, Robotics, Artificial Intelligence and the Law), technologist Mr Carlos Nicholas Fernandes, art writer and founder of @NFTAsia Ms Clara Peh and NFT artist Speak Cryptic, Ning shared her perspectives on NFTs as a collector, art consultant and gallerist.
---
SAW2022 Dialogues
SAW Dialogues 2022 – In Retrospect: 10 Years of SAW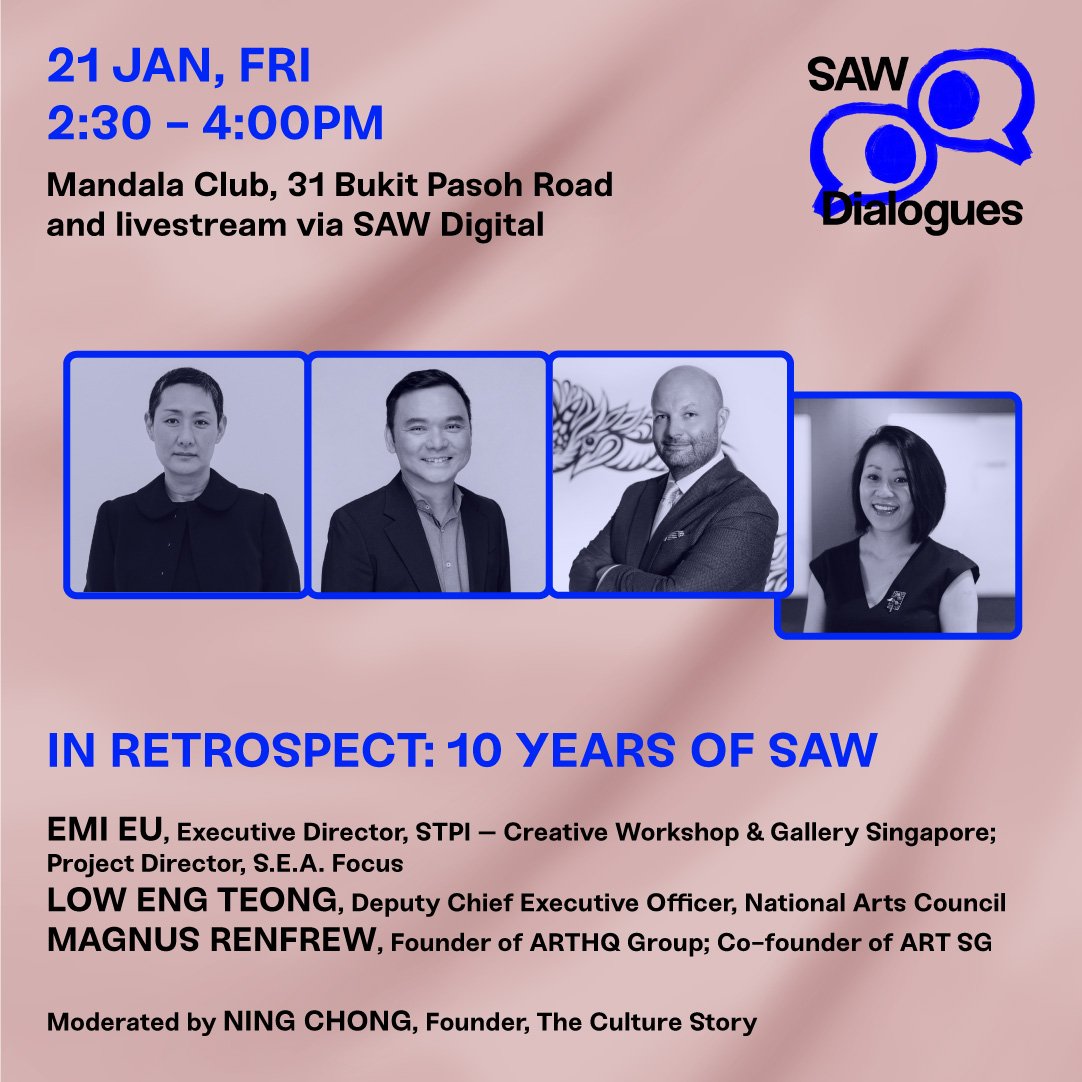 On 21 January 2022,  Founder Ning Chong will be moderating the panel "In Retrospect: 10 Years of SAW" as part of the SAW Dialogues 2022. Alongside Ning is Emi Eu (Executive Director, STPI – Creative Workshop & Gallery Singapore and Project Director, S.E.A. Focus), Low Eng Teong (Deputy Chief Executive Officer, National Arts Council), and Magnus Renfrew (Founder of ARTHQ Group, Co-Founder of ART SG).
This panel discussion will reflect on the past ten years of SAW, discussing Singapore's position as a vibrant arts hub in a regional context. From a commercial perspective, three leading art professionals will share their insights on what makes a successful art week. Who benefits most from Art Week; how do we strike a balance between quality of art versus quantity of programmes; is the current model sustainable? In this pandemic-era, how will Art Week evolve and what can we look forward to in future?
Watch the Livestream on SAW Digital.
Find out more at: https://www.artandmarket.net/saw-dialogues-2022-panel/in-retrospect-10-years-of-saw
---
Memes, Myths and Machines
Garden Of Internet Delights, 2021 (Artwork credit: ZXEROKOOL/ Jonathan Leong)
"Meme, Myths and Machines" is digital artist Jonathan Leong aka ZXEROKOOL's first solo exhibition in Singapore. The show comprises three major new NFT pieces in limited editions coupled with a physical manifestation in the form of an exhibition held at The Culture Story.
"Memes, Myths and Machines" is representative of the artist's experiences growing up from a time before the advent of digitalization, social media and meme culture. His art aims to rationalise a world that is evolving faster than ever before; where society is in flux, we are constantly switched on yet look fondly at the past. ZXEROKOOL is influenced by his childhood memories of dial-up internet, Nokia phones, retro video gaming culture and pop culture from the 1980s – 90s till present era, which serve as timestamps along his journey as a digital creator, which has now taken him deeper into the Metaverse. This exhibition aims to attract art lovers, aspiring NFT collectors and people who are curious about digital art and NFT crypto art.
More information about the NFT series (including the essay by Clara Peh) – www.memesmythsandmachines.com.
NFT drop can be found here – rarible.com/zxerokool
The show will open 14 – 23 Jan, 11AM – 6PM, after which visits will be by appointment only from 24 Jan – 20 Mar.
---
Of Human Bondage – a relationship with Nudes
Of Human Bondage – a relationship with Nudes
Showcasing 38 works from 22 artists from Asia and beyond; comprising of drawings, mixed media and Chinese ink on paper, oil on canvas and sculptures.  
After a prolonged hiatus this year due to COVID, The Culture Story is delighted to announce an exclusive display from the Chong H.S. art collection, most of which has not been publicly displayed before. Centered around the theme of "nude", Mr Chong personally curated 38 works of various sizes and medium by 22 artists from Singapore, Southeast Asia, Hong Kong, China, Australia, Britain, USA, Mexico that were acquired and collected over the last 30 years.
Inspired by the great British playwright and novelist William Somerset Maugham (b. 1874 – d. 1965) who wrote the semi-autobiographical novel "Of Human Bondage" in 1915. Inspired by Maugham, Mr Chong borrowed his masterpiece Of Human Bondage as the title for the exhibition. "This exhibition represents one area of my collecting interest over the past thirty years. Like Maugham in Bondage, I like to share stories of my collection journey, many of which are personal, humorous and if I dare say so entirely memorable. This is therefore not an essay about the artists but a chronicle of how and why I acquired their art. Of particular interest would be seldom seen nude paintings from our Singapore artists including early works by our senior artists, such as Lim Yew Kuan, Chua Mia Tee, Tang Da Wu, Wong Keen, Siew Hock Meng, Tan Chor Tee, Lee Boon Wang and Teng Ngee Cheong." – Chong H.S.
The exhibition is accompanied by an English and Chinese essay written by Mr Chong.
English Essay_Of Human Bondage
Chinese Essay_Of Human Bondage (translated by Jocelyn Koh)
Installation View
Artist Names
Agus Suwage, Armando Amaya, Ben Cabrera, Chen Junde, Chloe Ho, Chua Mia Tee, Fu Lei, Greg James, Huang Lijuan, Kathy McNally, Lee Boon Wang, Liu Bing Jiang, Long Rui, Rajesh Kargutkar, Robert Kipniss, Siew Hock Meng, Sydney Harpley, Tan Choh Tee, Tang Da Wu, Teng Nee Cheong, Tew Nai Tong, Wong Keen
———–
In conjunction with SEA Focus (20 – 31 Jan 2021), we held SEA Focus VIP guests on Saturday 23rd Jan 2021.
---
Exploring the Zain Azahari Collection, 18 Jan 2020
Close to 70 art collectors, gallerists, artists and enthusiasts joined us on 18 Jan to hear Pak Zain share on his art journey and approach to collecting artists work.
Pak Zain is one of Malaysia's most respected art collectors of modern and contemporary Malaysian art, The Azahari Collection stands at over 1,000 pieces and is acknowledged to be one of the most significant private collections in Malaysia.  Widely known to be a private and low-profile individual, we were privileged to host Pak Zain and Haslinda who shared their insights behind the Azahari Collection, the vision for Galeri Z which was set up in 2015 and their personal endeavours to publish 3 books so far.
The event launched "Hati & Jiwa: Volume 3 (2019)"  featuring over 500 artworks, by Malaysia's old masters and 50 contemporary works from younger Malaysian artists and around the region. Volume 3 comprises of four books, thematically categorised as Landscape, Figurative, Abstract and Other Regions with artworks dating from the 1920's to the present day.
---
---
Disrupting Art Market Models with S2 Gallery London
Join us to find out S2 London's unique approach to exhibition-making, opportunities in London which is on the cusp of Brexit, who are the value buys and discover international artists before the market catches on.
Date: Thursday 21 Nov 2019
Starts 6.30PM
Complimentary entry, RSPV required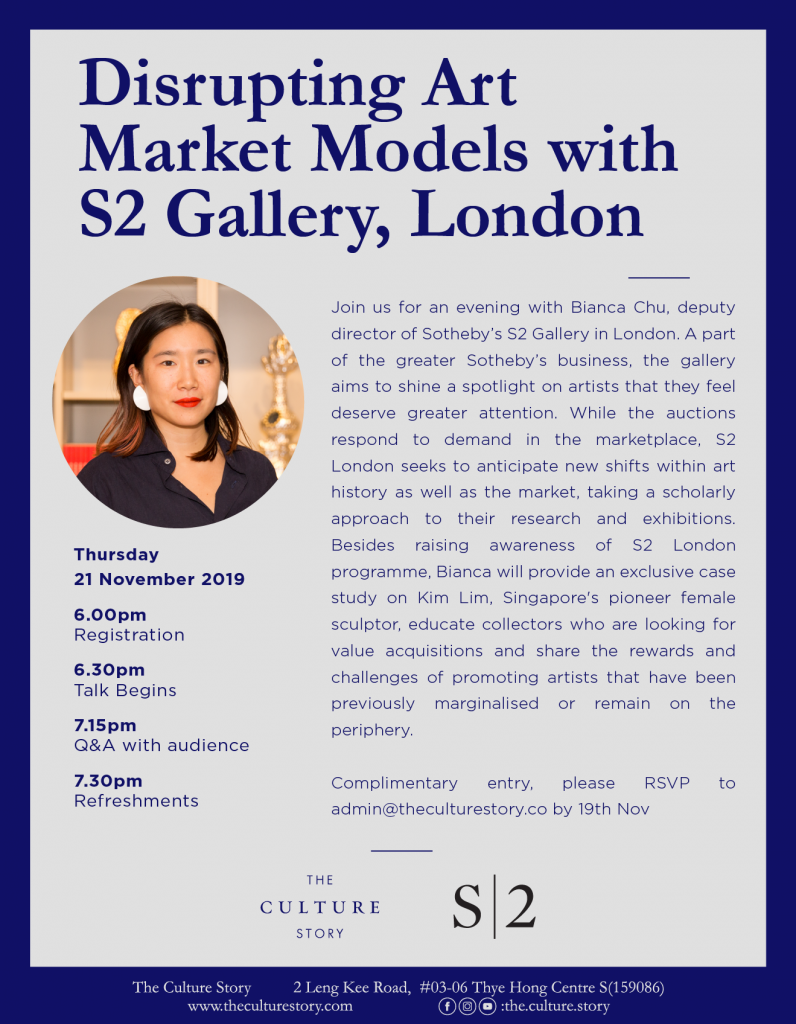 Bianca Chu is the deputy director of Sotheby's S2 Gallery in London. Having over 8 years experience in the art industry, Bianca along with gallery director Darren Leak, organise and curate the exhibition programme at S2. 
The gallery functions independently of the auction business, and aims to shine a spotlight on artists that they feel deserve greater recognition. Whilst the auctions at Sotheby's respond to demand in the marketplace, the exhibitions and research undertaken at S2 London hope to anticipate recognition and highlight artists that have been previously marginalised or remained on the periphery. S2 organising solo and group exhibitions (Bianca will elaborate more in her presentation), and the gallery also publishes extensively on its research and new exhibition books accompany the shows. 
Born in New York, Bianca has an MA from the University of Edinburgh in History of Art and Chinese Studies and is an Ambassador of the Tate Young Patrons and patron of the UK Friends of the National Museum of Women in the Arts, based in Washington, DC.
Previous solo exhibitions at the S2 gallery include the first UK solo show of Austrian artist Renate Bertlmann (currently representing Austria at the Venice Biennale); Kim Lim; Li Yuan-Chia; Yuko Nasaka; Ibrahim El-Salahi; Tess Jaray; Tsuyoshi Maekawa; Alfredo Volpi; Roger Hilton; and the first UK solo show of Huang Rui. Group shows include an exhibition re-staging the important but overlooked Signals gallery in London between 1964-66 which included work by Filipino artist David Medalla alongside key proponents of Kinetic and experimental art in Europe such as Takis, Carlos Cruz-Diez, Lygia Clark, and Helio Oiticicia.
---
Joys and Rewards of Art Collecting
On 14 Sept 2019, in collaboration with AXA and Great Eastern, Chong H.S. shared his personal journey of art collecting to a select group of premier clients. We were delighted to share this with our new friends, and Peng Yong's paintings and installation continue to be on display during this event. Besides art, we also heard from specialists on art insurance, legacy building and enjoyed whisky sampling after the talk.
---