The Culture Story is 5 Years Old! | In Search of Lost Time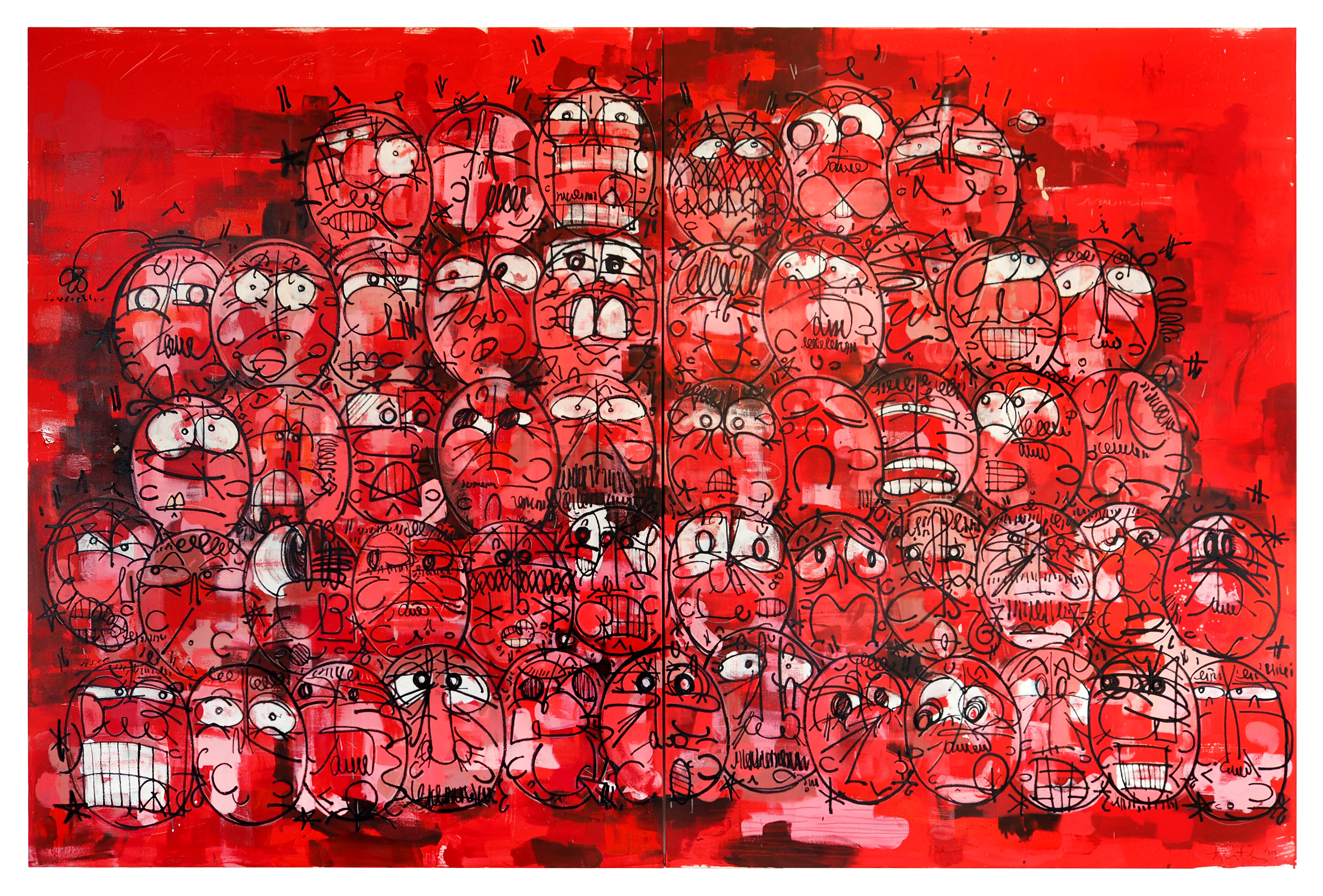 Timothy Curtis, Floating Untied to the Ground No.1, 2019, Oil, acrylic, graphite, wax crayon on canvas
In Search of Lost Time
The Culture Story is proud to commemorate its 5th anniversary with an exclusive art exhibition from the Chong H.S. collection. The exhibition showcases 38 works by 26 artists from Asia, Australia, Europe, North America, and Africa. Personally curated around the theme of portraits, faces, heads, figures and busts, Mr Chong shows snippets of his art collecting journey over the past 30 years.
Titled "

In 

Search

 of 

Lost

 

Time

", the exhibition was inspired by well-known French novelist, Marcel Proust's (b. 1871 – d.1922),
seminal novel. It contains seven volumes and its story was, in many ways, parallel to Marcel's own life story of searching for the meaning to life.
The exhibition comprises a variety of paintings, works on paper, sculpture, bronze including works by early 20th-century artist Henri Gaudier-Brzeska (1891 – 1915) to contemporary artists like Timothy Curtis (b. 1982) and Takashi Murakami (b. 1962). Each piece revisits snapshots of Chong H.S. moments before and after acquiring the artwork.
Presented by The Culture Story, the exhibition was opened
from 12 July 2022 till 30 November 2022.
Visits are by-appointment only and interested visitors are required to contact the gallery to make an appointment by emailing admin@theculturestory.co. The exhibition is accompanied by an English essay written by Mr Chong and can be viewed here.
Installation View
Artists' Names
Ben Puah, Casper Darare, Chen Ke, Dang Xuan Hoa, David Chan, Futura, Greg James, Helen Downie "Unskilled Worker", Henri Gaudier-Brzeska, Jacky Tsai, Jennifer McRae, Jin Zheng He, Khairulddin Wahab, Loi Cai Xiang, Mak Kum Siew, Murakami Takashi, Oh de Laval, PichiAvo, Raya Sorkine, Sandro Chia, Sergei Besedin, Timothy Curtis, Vajira Gunawardena, Vasan Sitthiket, Vhils, William Turnbull
---
Memes, Myths and Machines
Garden Of Internet Delights, 2021 (Artwork credit: ZXEROKOOL/ Jonathan Leong)
"Meme, Myths and Machines" is digital artist Jonathan Leong aka ZXEROKOOL's first solo exhibition in Singapore. The show comprises three major new NFT pieces in limited editions coupled with a physical manifestation in the form of an exhibition held at The Culture Story.
"Memes, Myths and Machines" is representative of the artist's experiences growing up from a time before the advent of digitalization, social media and meme culture. His art aims to rationalise a world that is evolving faster than ever before; where society is in flux, we are constantly switched on yet look fondly at the past. ZXEROKOOL is influenced by his childhood memories of dial-up internet, Nokia phones, retro video gaming culture and pop culture from the 1980s – 90s till present era, which serve as timestamps along his journey as a digital creator, which has now taken him deeper into the Metaverse. This exhibition aims to attract art lovers, aspiring NFT collectors and people who are curious about digital art and NFT crypto art.
More information about the NFT series (including the essay by Clara Peh) – www.memesmythsandmachines.com.
NFT drop can be found here – rarible.com/zxerokool
The show will open 14 – 23 Jan, 11AM – 6PM, after which visits will be by appointment only from 24 Jan – 20 Mar.
---
Of Human Bondage – a relationship with Nudes
Of Human Bondage – a relationship with Nudes
Showcasing 38 works from 22 artists from Asia and beyond; comprising of drawings, mixed media and Chinese ink on paper, oil on canvas and sculptures.  
After a prolonged hiatus this year due to COVID, The Culture Story is delighted to announce an exclusive display from the Chong H.S. art collection, most of which has not been publicly displayed before. Centered around the theme of "nude", Mr Chong personally curated 38 works of various sizes and medium by 22 artists from Singapore, Southeast Asia, Hong Kong, China, Australia, Britain, USA, Mexico that were acquired and collected over the last 30 years.
Inspired by the great British playwright and novelist William Somerset Maugham (b. 1874 – d. 1965) who wrote the semi-autobiographical novel "Of Human Bondage" in 1915. Inspired by Maugham, Mr Chong borrowed his masterpiece Of Human Bondage as the title for the exhibition. "This exhibition represents one area of my collecting interest over the past thirty years. Like Maugham in Bondage, I like to share stories of my collection journey, many of which are personal, humorous and if I dare say so entirely memorable. This is therefore not an essay about the artists but a chronicle of how and why I acquired their art. Of particular interest would be seldom seen nude paintings from our Singapore artists including early works by our senior artists, such as Lim Yew Kuan, Chua Mia Tee, Tang Da Wu, Wong Keen, Siew Hock Meng, Tan Chor Tee, Lee Boon Wang and Teng Ngee Cheong." – Chong H.S.
The exhibition is accompanied by an English and Chinese essay written by Mr Chong.
English Essay_Of Human Bondage
Chinese Essay_Of Human Bondage (translated by Jocelyn Koh)
Installation View
Artist Names
Agus Suwage, Armando Amaya, Ben Cabrera, Chen Junde, Chloe Ho, Chua Mia Tee, Fu Lei, Greg James, Huang Lijuan, Kathy McNally, Lee Boon Wang, Liu Bing Jiang, Long Rui, Rajesh Kargutkar, Robert Kipniss, Siew Hock Meng, Sydney Harpley, Tan Choh Tee, Tang Da Wu, Teng Nee Cheong, Tew Nai Tong, Wong Keen
———–
In conjunction with SEA Focus (20 – 31 Jan 2021), we held SEA Focus VIP guests on Saturday 23rd Jan 2021.
---
CONSTELLATION by Futura, 30 May – 09 June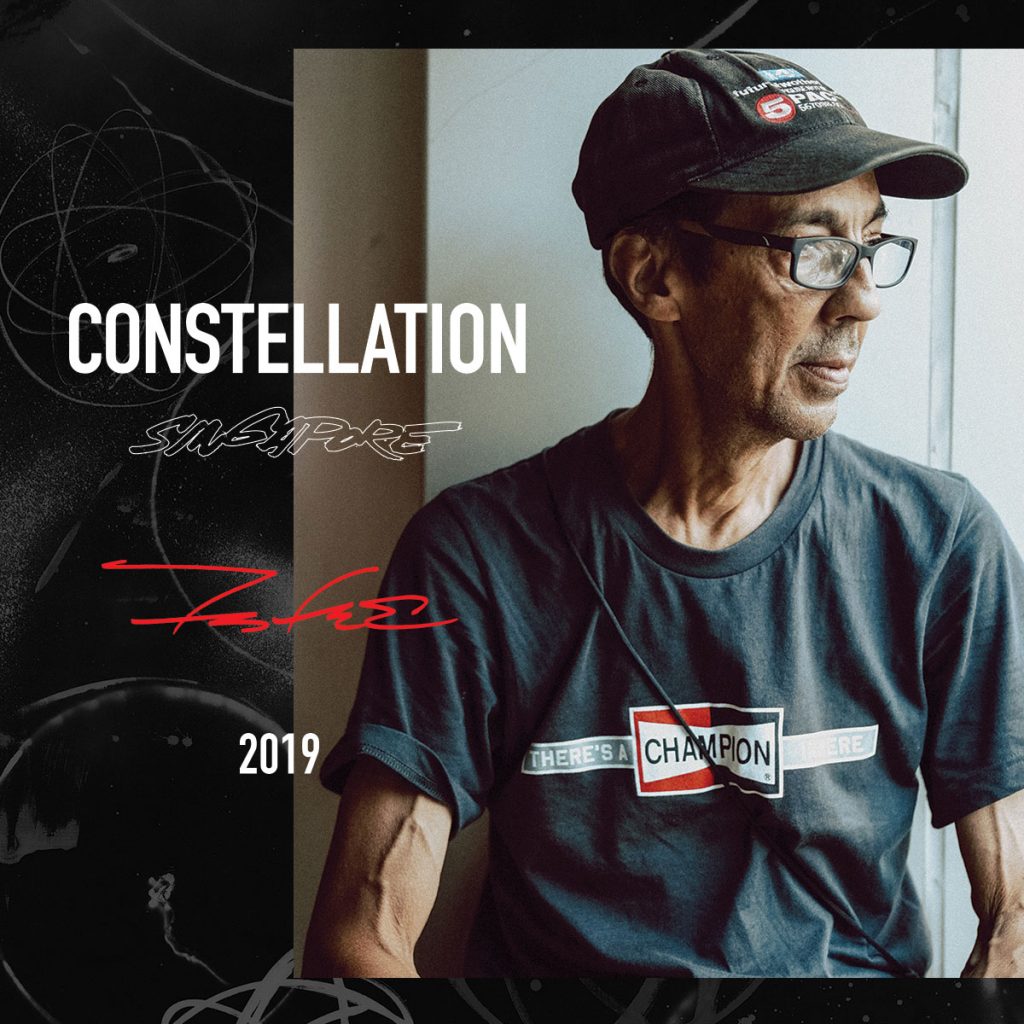 Futura, dubbed the godfather of contemporary street art, will make his Southeast Asian debut in Singapore come 30 May 2019. Presented by The Culture Story and curated by Singapore's leading pop artist Jahan Loh, CONSTELLATION marks the street culture legend's first ever solo exhibition in the region.
Hailing from the birth of the graffiti art movement, in the early 1970's Futura began 'bombing' trains in his hometown of Brooklyn, New York. Alongside his contemporaries, including iconic names such as Keith Haring and Jean-Michel Basquiat, he later took his distinctive abstract graffiti style from the streets and onto the canvas, showing in galleries around the world. Over the past forty years, Futura continuously pushed the boundaries of street art and painting, and has earned recognition internationally for his authentic style which has evolved beyond traditional forms of graffiti.
The exhibition will showcase 30 specially commissioned pieces created during a two week-long residency at The Culture Story. CONSTELLATION delves into Futura's inner universe and celebrates his pioneering spirit for inventing new spraying techniques, including his most iconic and signature move, the inverted spray. Utilising a range of materials coupled with finely tuned techniques, this unique series of works demonstrates that Futura's visual style transcends cultural and physical boundaries – where expression and style, restraint and spontaneity, splatters and control, provide poetic contradiction.  The bold, vibrant compositions are marked by a repertoire of forms and iconic motifs he has come to be known for – characters, atoms and cranes.
During the exhibition, a limited-edition catalogue stashed in custom designed ammo boxes will be available for purchase. In addition, The Culture Story will also be organising a fringe event to complement the exhibition on Saturday, 01 June 2019. "Futura: 60 minutes with the street art legend"will feature a debut screening of a new mini-documentary on Futura's career, followed by a dialogue session and after-party at The Projector and Intermission Bar, click here to buy tickets.
For more info and updates, visit:  FuturaConstellation.com, IG @the.culture.story and FB Event Page
For media enquiries, pls email media@theculturestory.co
For overseas visitors – pls contact us directly for friendly hotel rates to stay at Regent Singapore.
Photo credit to Melvin Wong, Produced and Copyrighted @ The Culture Story
---
Exhibition: "Chinese Contemporary Ink" by Nan Qi and Hong Zhu An
Chinese Contemporary Ink by Nan Qi and Hong Zhu An
Official Exhibition Opening
Saturday, 15 September 2018
12pm–5pm
The Culture Story presents two artists, Nan Qi (b. 1960) and Hong Zhu An (b. 1955), who are masters of ink in their own rights. Constantly challenging the boundaries of a medium of immemorial traditions and histories, Nan and Hong belong to a generation that straddles between the traditional form of Chinese art education and the influence from the Western styles of painting. Brought together in one exhibition, the works show two different trajectories contemporary ink practitioners take as they blur the line between the East and the West.
Well known for his 'Halo dots', Beijing-based artist Nan Qi has developed his own style of ink painting that many have described as "Post-Pop", after the likes of Western artists such as Andy Warhol. His works are created on traditional Chinese calligraphy paper (xuan paper) with a mixture of using ink painting, ink stains, ink washing and ink colourimetric techniques, yet the skillful reproduction of the dots appear to be a digital pixelation of the image. The constant evolution of his technique continues to redefine the Chinese ink painting as a medium.  The Culture Story is delighted to be exhibiting a selection of his early dot series as well as iconic portraits of world leaders.
Juxtaposing the vivid colours of Nan Qi's, The Culture Story is also showcasing never-seen-before works by Singapore-based Chinese painter Hong Zhu An (b. 1955). Trained under the famous Chinese art scholar Wang Zidou in Shanghai and having lived in Sydney before settling in Singapore, Hong is a master of both Western and Chinese forms of art. His works are a blend of East and West techniques as he combines Chinese calligraphy and painting, including "negative painting". Hong has a profound love for the line and he understands its importance as a fundamental of Chinese artistic expression. Behind each art piece is a myriad of layers, each consisting of thousands of calligraphic strokes and colours.
Talk – Collecting Chinese Ink: History, Culture, Wealth

Sunday, 23 September 2018
2.30pm
Should one collect ink, what are the current trends and who are the rising stars? Join us for a conversation with ink collectors H.S. Chong and K.P. Lee, and art historians Teo Han Wue and Lee Chor Lin. More details on Facebook.
Exhibition Information

Dates: 15 September – 7 October 2018
Opening Hours: Viewing by appointment only
Tags:
exhibition
,
chinese
,
ink
,
hong zhu an
,
nan qi
---
FLESH MATTERS Official Opening and VIP Dinner 14.07.2018
The official opening of FLESH MATTERS took place on Saturday, 14 July 2018, including a special VIP dinner for artist's friends and family,  art collectors, patrons and supporters of The Culture Story and artcommune gallery. There were good food and good conversations including heartfelt sharing by pioneers like Mr Koh Seow Chuan and Mr Choy Weng Yang. Over 250 guests turned out on Saturday, so a big thank you to everyone!
Exhibition Information
Exhibition Dates: 12 July – 22 July 2018
Time: 12pm – 7pm
Venue: Artspace @ Helutrans, 39 Keppel Road, Singapore 089065
---
FLESH MATTERS at Helutrans, 12 – 22 July
FLESH MATTERS at Artspace@Helutrans will present over 25 new paintings and 15 works on paper and collages, illustrating Wong's compelling mastery and virtuosity as a painter. The series is considered one of the most accomplished in Wong's painted oeuvre over fifty years. The accompanying exhibition catalogue includes full-colour illustrations and an essay contributed by Ms. Lee Chor Lin, former Director of the National Museum and the CEO of Arts House Limited.
The works on exhibit chart the latest development in Wong's artistic career. Having spent over fifty years in America, his outstanding oeuvre, which encompasses oil, acrylic, ink and mixed media works, is a powerful embodiment of Chinese ink wash aesthetics and Western inventive approach towards form and colour. This dynamic approach has continued to characterise his dramatisation of flesh in form and philosophy over the last few years. His stylised images of the nude, the butcher shop and the burger across different pictorial styles and mediums reflect his commitment to continuously evolve and push the boundaries. This inventive spirit certainly sets him apart from his Singaporean contemporaries.
The largest work in Flesh Matters is a mural-sized acrylic painting titled, 'The Aftermath'. Measuring 305 by 610 cm, its scintillating display of bold colours and narrative symbols devised through the form and atmosphere of flesh reflects the theme of warfare among other recurring threads in the series. Acts of violence and destruction are always suggested rather than depicted, and the result is an arresting image that bespeaks a complex chain of relations and an unutterable horror, rather than a point-blank picture of carnage.
Exhibition Information
Exhibition Dates: 12 July – 22 July 2018
Time: 12pm – 7pm (except 14 July, it will close at 4pm)
Venue: Artspace @ Helutrans, 39 Keppel Road, Singapore 089065
Official Exhibition Opening
Official opening with artist present will be held on Saturday 14th July 2018 from 12PM – 4.00PM.
---
Lyrical Flesh by Wong Keen (till 31 Aug)
At The Culture Story gallery, we are pleased to present "Lyrical Flesh" by Wong Keen, featuring 13 new works – exquisite collages (mixed media on paper) on Sat 02 June 2018. These striking works are part of Wong's latest body of work titled "Flesh". This presentation at The Culture Story is a prelude to a larger, significant exhibition at Artspace@ Helutrans which will open in mid-July 2018, that aims to showcase over 25 new paintings and more than 15 new collages. Works are for sale, pls contact us for more details.
---
GENESIS: GOD'S TERRARIUM BY JAHAN LOH (Opening Weekend)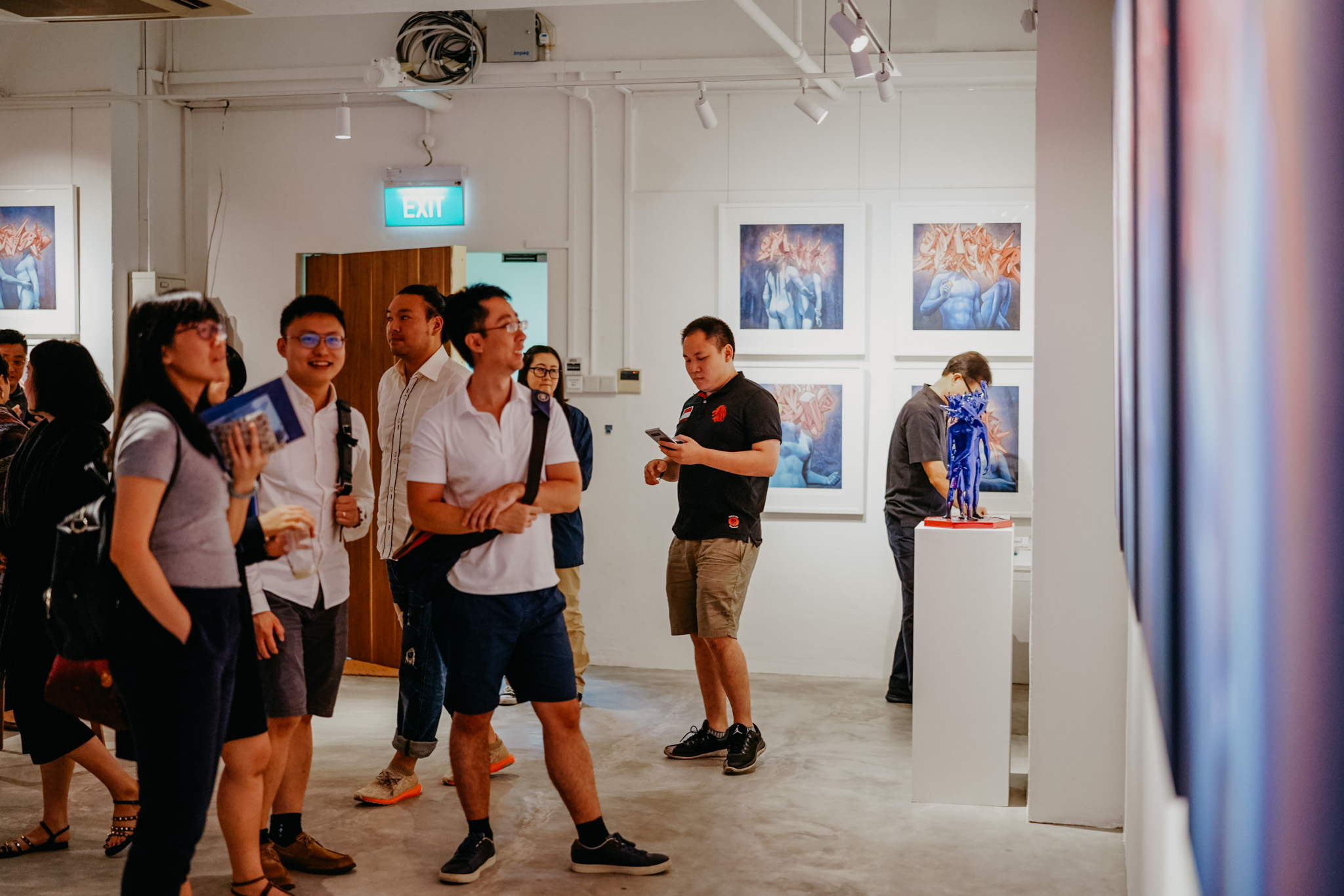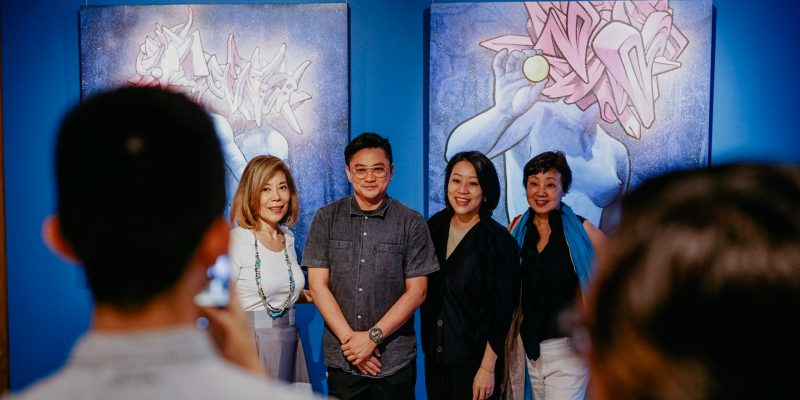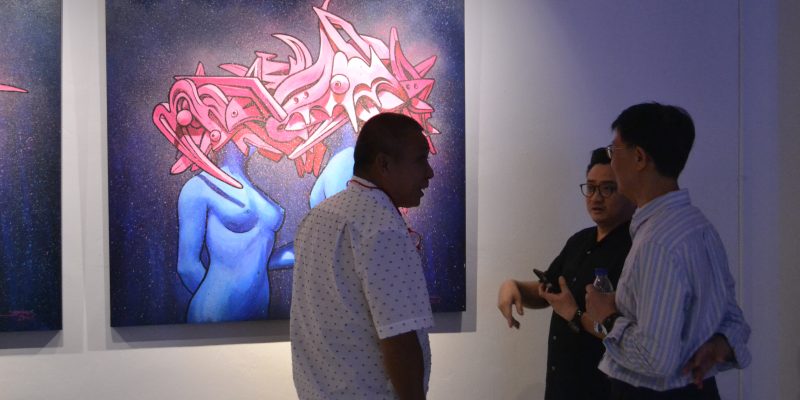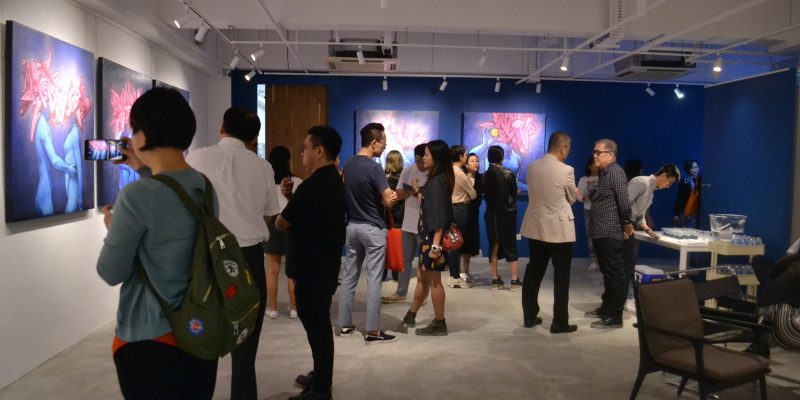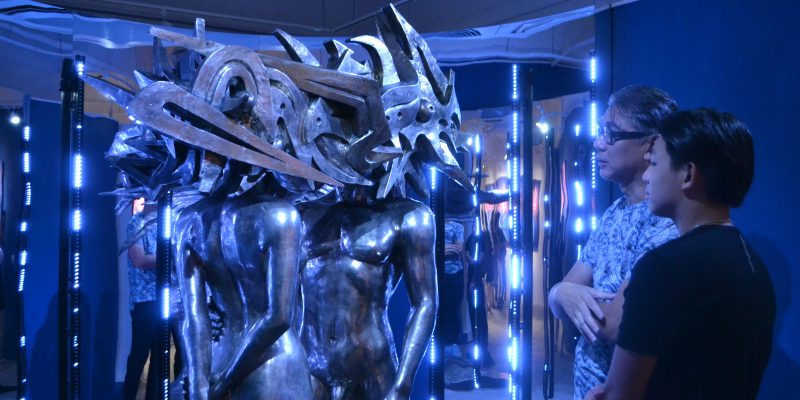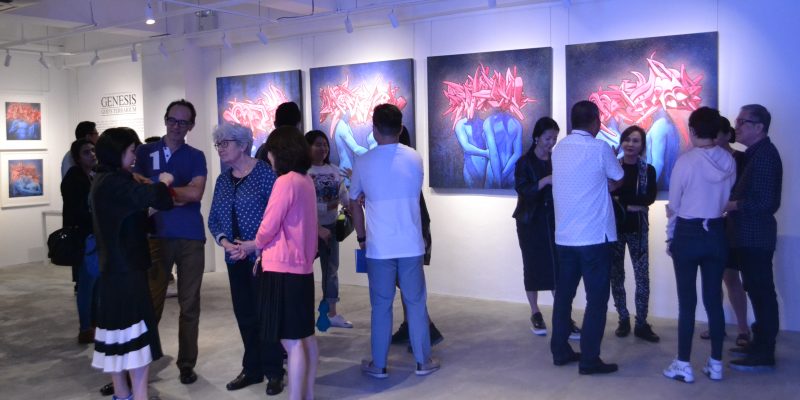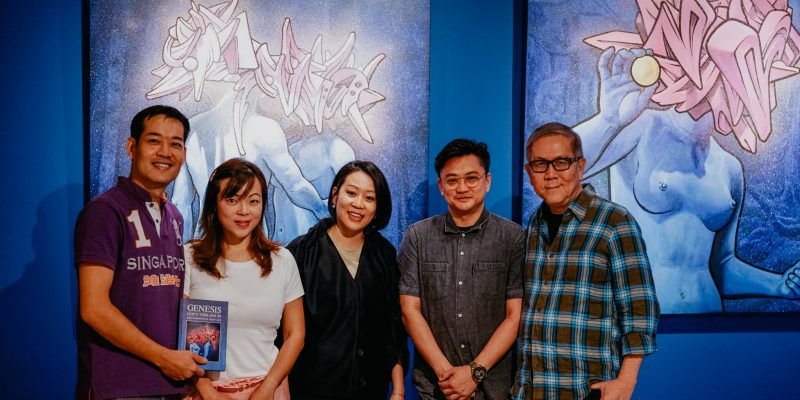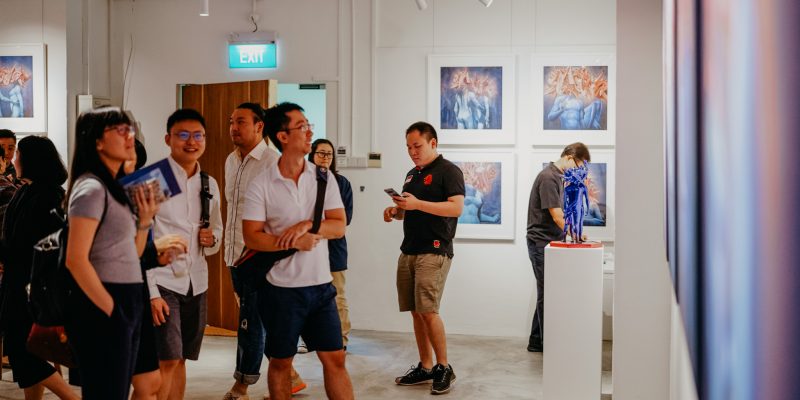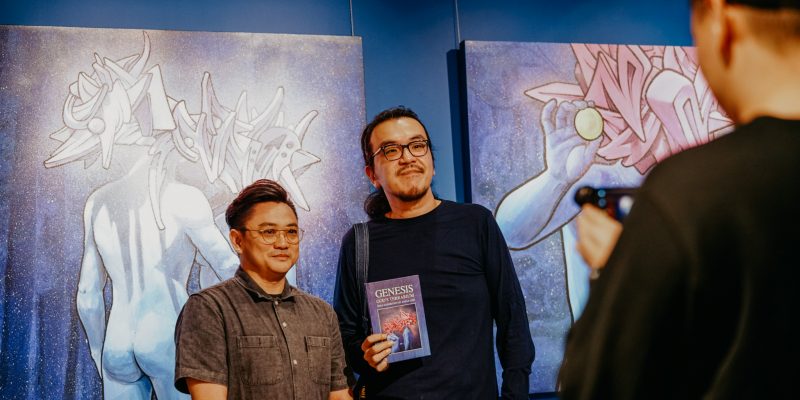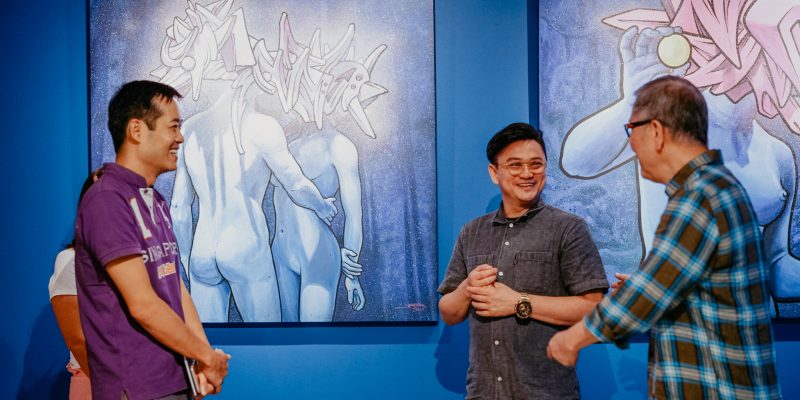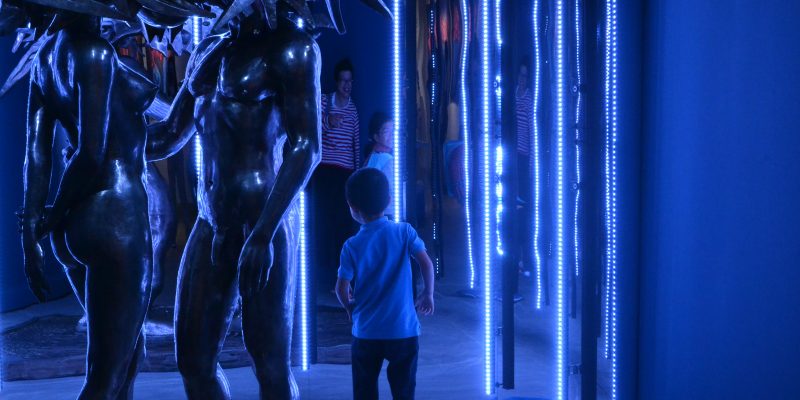 ---
GENESIS: GOD'S TERRARIUM by Jahan Loh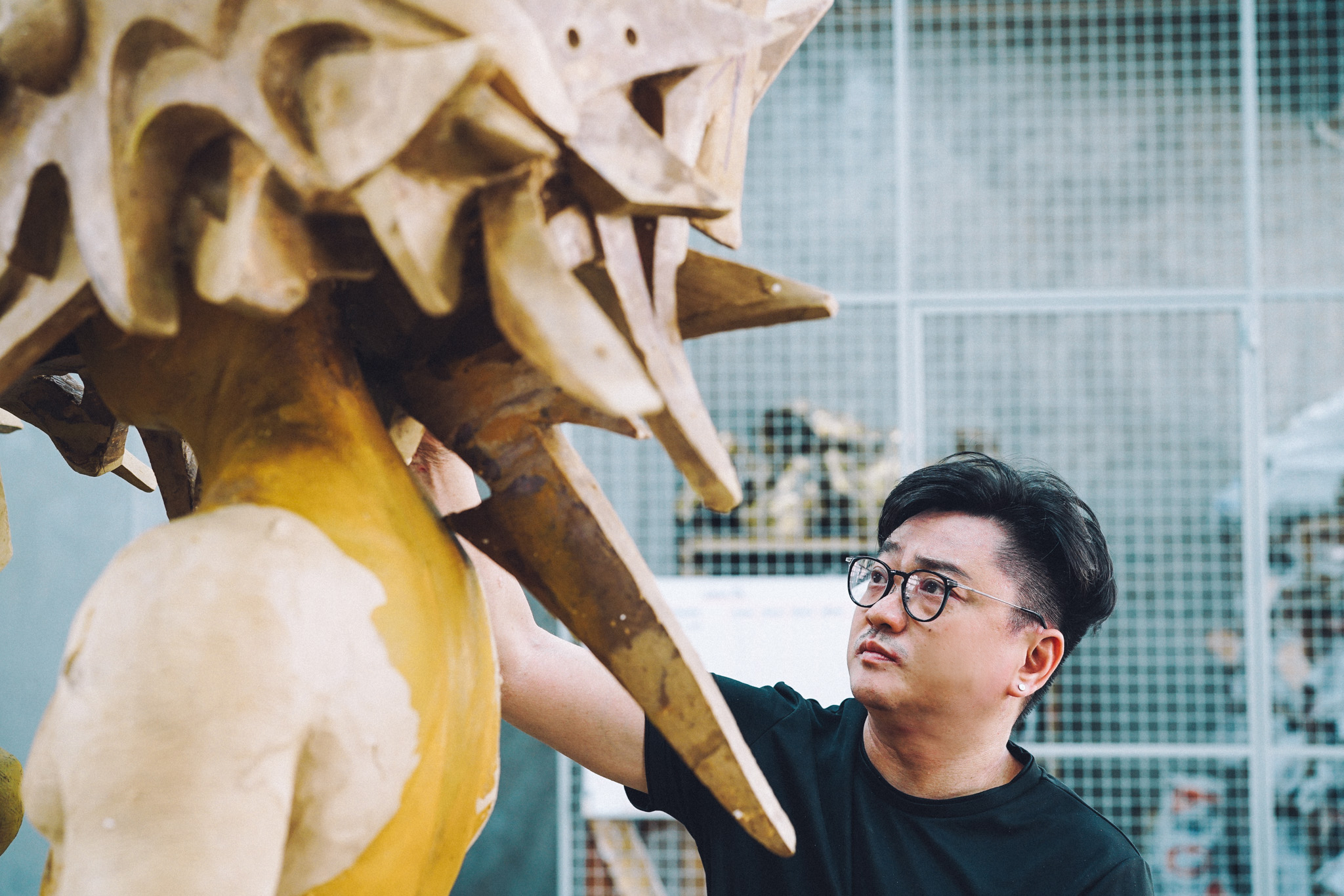 The Culture Story is pleased to announce the currentbsolo exhibition"Genesis: God's Terrarium" by Jahan Loh.  This exhibition marks Jahan's return to showcase in Singapore after a four-year hiatus since 2013.
"Genesis: God's Terrarium" presents eight new paintings, limited edition prints and sculptures which include a larger-than-life-sized sculpture of Adam and Eve rendered in bronze and silver finish. "Terrarium of the Gods" is a term Jahan used to describe Earth – a garden planet or biosphere where genetically engineered humanoids contained the DNA of the Gods.
The paintings depict eight different scenes of Eden, with Adam and Eve embracing each other and seemingly swirling in harmony. However, chaos continues after creation, and Eve's dialogue with the serpent is represented by an explosive mask of jagged deconstructed Chinese characters that reads "创世纪" (genesis), a manifestation of chaos and inner turmoil. Here, Jahan references the religious personages of God's children Adam and Eve and harkens back to Renaissance religious art iconography. Yet the pop cultural imagery and reference to Adam and Eve as extra-terrestrial beings or "alien" is a creative turn that draws from the artist's interest in the work of Jack Kirby, Asian manga and western comics.
This project is a culmination of the last three years, reflecting Jahan's preoccupation with existentialism and a glimpse into his inner mind and vivid imagination surrounding the time of Man's Creation and the Garden of Eden before Man's expulsion.
About Jahan Loh
Born in 1976, Jahan Loh is Singapore's leading Pop artist and one of Asia's most successful street artists. His oeuvre revolves around street art and pop iconography and has exhibited internationally in New York, Melbourne, Beijing, Shanghai, Taipei, Hong Kong and Singapore.
Over the last decade, Jahan had successful collaborations with major lifestyle brands in China, Singapore and Taiwan, such as Vans, Casio's G-SHOCK, Adidas and PUMA.  In 2016, he completed two site-specific murals for the new ZOUK Club at Clarke Quay. Recently, Subcrew presented "STASH x Jahan Outside-In" at Yo'hood, Shanghai – China's premier street wear fair, where Jahan collaborated with popular New York street legend STASH for a live showcase.
Influenced by graffiti artists from the 1970s and 1980s in New York, coupled with a deep immersion in the international phenomenon of Hollywood sci-fi, comic books and Asian manga and anime culture, Jahan has truly brought Singapore Pop art into the international limelight.
—
EXHIBITION INFORMATION
Exhibition Dates: 17 January – 18 March 2018 (visit by-appointment)
Exhibition catalogue includes an essay by Michelle Ho, Director of NTU Art Design Media Gallery, Singapore.
Please contact us for more information on available works.
---